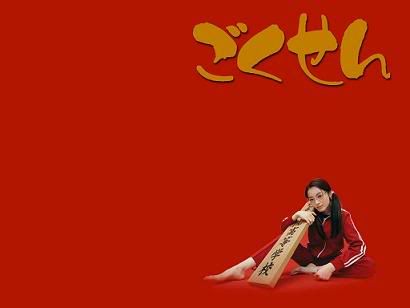 Drama Info:

Episodes: 12 + Special Graduation
Viewership ratings: 17.43 (not including SP)
Broadcast period: 2002-Apr-01 to 2002-Jul-03
SP: 2003-Mar-26
Air time: Wednesday 22:00
Theme song: Feel Your Breeze by V6
Synopsis:
The story of a young, idealistic teacher who enters Shirokin Gakuen with hopes of making a difference in the students' lives. However, Yamaguchi Kumiko (Nakama Yukie) is in for a rude awakening when she finds that she will be the homeroom teacher of 3-D, the hardest class to maintain in the school. The students have multi-colored hair, sloppy uniforms, and show absolutely no respect to her. The leader of the class, Sawada Shin is lazy but bright and shows some interest in Yamaguchi when he notices that she is very different from other teachers. The students try to bully her to make her quit, but their attempts don't get them very far.
Genre:
Drama | Comedy | Family
Download Link:
Episod 1:
Part 1
|
Part 2
|
Part 3
|
Part 4
Episod 2:
Part 1
|
Part 2
|
Part 3
|
Part 4
Episod 3:
Part 1
|
Part 2
|
Part 3
|
Part 4
Episod 4:
Part 1
|
Part 2
|
Part 3
|
Part 4
Episod 5:
Part 1
|
Part 2
|
Part 3
|
Part 4
Episod 6:
Part 1
|
Part 2
|
Part 3
|
Part 4
Episod 7:
Part 1
|
Part 2
|
Part 3
|
Part 4
Episod 8:
Part 1
|
Part 2
|
Part 3
|
Part 4
Episod 9:
Part 1
|
Part 2
|
Part 3
|
Part 4
Episod 10:
Part 1
|
Part 2
|
Part 3
|
Part 4
Episod 11:
Part 1
|
Part 2
|
Part 3
|
Part 4
Episod 12:
Part 1
|
Part 2
|
Part 3
|
Part 4
*Password -
gblog85.blogspot.com

or
(mp4)
Episode 1: http://www.mediafire.com/?wqofnmycykz

Episode
2: http://www.mediafire.com/?dgrqmiznjtc

Episode
3: http://www.mediafire.com/?4toynmgyjl2

Episode
4: http://www.mediafire.com/?ditmz15bmqm

Episode
5: http://www.mediafire.com/?ktznzdzdygn

Episode
6: http://www.mediafire.com/?n4zdmldzwrm

Episode
7: http://www.mediafire.com/?zzgzjgctbjq

Episode
8: http://www.mediafire.com/?y3nymjwzyjj

Episode
9: http://www.mediafire.com/?ukkv2nwumyf

Episode
10: http://www.mediafire.com/?nom2wnzztmk

Episode
11: http://www.mediafire.com/?zmmqg44uhg3

Episode
12:
http://www.mediafire.com/?j03ymhxkgwt

+

Special Graduation:
part 1: http://www.mediafire.com/?zvt2y5mnyzw
part 2: http://www.mediafire.com/?nzqmvzdgx0u


//
original entry by
mrmat
from
Aku Muzik Hampa